Staff | Board of Directors | Partners & Funders
STAFF
Craig Gabrian
Executive Director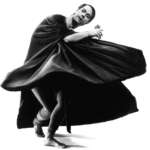 A founding Director of Young Dancers in Repertory. Craig holds a B.S. in Elementary Education and a B.F.A. in Dance. The combination of his two degrees, coupled with over 30 years of experience, has led him to develop comprehensive educational and artistic programs for YDR.
Craig has 10 years of experience working to develop professional training and integrity in dance into students programming for the NYC Department of Education, TASC, PASE and private schools.
June December
Deputy Director
YDR Deputy Director, with YDR since October 2000, where she handles the day to day operations of the Young Dancers organization in addition to student enrollment and Human Resource functions. June has sixteen years of experience in the corporate world as an Insurance Broker with a large New York firm. In conjunction with her corporate experience, June assisted in the running of the Brooklyn College Preparatory Center for the Performing Arts office which provided dance, music and theater classes for children of ages 3 to 18 years old. June holds a Bachelor Degree in Performing Arts specializing in Dance from Brooklyn College of the City University of New York.